10 Questions with Cult President, Ryan Gill

Former Suitcase founder talks candidly about his new Cult.
Ryan Gill led Suitcase Interactive from a small web design boutique to one of Canada's most accomplished digital agencies. His tenacity helped earn his way into Calgary Inc.'s Top 40 Under 40 list in 2007, and five years later, Suitcase was folded into one of western Canada's longest-standing traditional ad agencies, Watermark Advertising to form Cult Collective. So, I asked Ryan to take a time out to tell people how his life and perspective on the marketing industry has changed, and explain the relevance of Cult.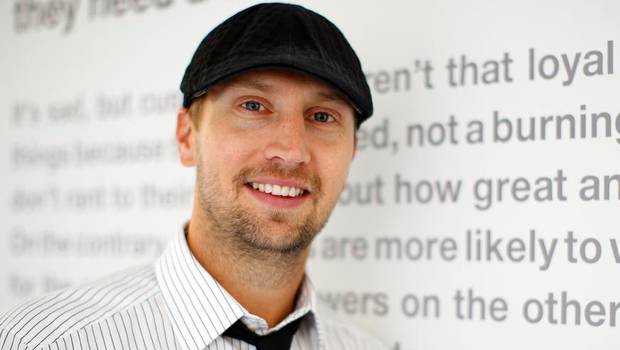 Q: How is the Ryan Gill of Cult different today than the Ryan Gill who led Suitcase?
I'm more enlightened (laugh). More confident. Fearless.
Now, I push and challenge our clients instead of just do what they're asking or even telling me to do. Not in a  rude way, of course but I tell my clients when I think ideas are bad and when they are good. Black and white. Because I believe that's what we're hired to do.
Sometimes in our line of work there's a tendency to make clients feel good by being agreeable or reassuring them that they're on the right track, and I think that's a huge disservice. I think it's our job to make clients uncomfortable, because that's where innovation happens. We need to be bold and give clients honest advice, even when they may not like it.
One thing about me that hasn't changed is my belief that a great culture creates a great company. As I'm staying committed to building a culture at Cult that respects and cares for the people who make this agency great.
Q: What have been the major turning points in your career over the past 5 or 6 years, if any? Is there any big lessons you've learned?
There will always be ups and downs.  I've learned to roll with the punches much more these days.
The biggest lesson I think I've learned is that you can't settle into anything. Complacency kills. You need to stay on your toes.  That's why I'll be constantly challenging our agency's positioning and offerings, and keeping eyes forward to ensure we're still unique and differentiated enough. So we can zig when others zag.
I've also learned the critical importance of having a vision. A greater purpose — above and beyond what we do day-to-day. No vision no decision, as the saying goes. Without a vision that can be simply communicated and understood, nobody will follow you. Plain and simple. Talented people want to know and feel they're helping row a boat that's going somewhere, and when they don't, they'll bail.
Q: Was it hard for you to lay Suitcase to rest after all the company had accomplished?
Yes, it was one of the hardest things I've ever had to do.
But things that are worth pursuing in life require some sacrifice.
It's sad to see a name go away that we'd worked so hard over the years to make recognized. I think a lot of people across Canada had some great experiences with Suitcase. Memories that I hope will last a lifetime.
Q: Do you feel that agencies who are focused on digital marketing and web design are more relevant or less relevant today than they were a few years ago? Why?
Less relevant. Digital is simply table stakes. It's not a positioning you can grow an agency around anymore.
If you asked 100 agencies if they're competent at web or digital marketing, I'd bet 95% would say yes. How do you stand out in that crowd?  I don't believe you can, which was part of the impetus behind Cult.
Q: If you had to pick one thing that you think Cult is absolutely the best at, what would it be?
Brand engagement strategy. When you mash together a digital agency like Suitcase with a 30 year-old traditional agency like Watermark, you get an uber agency that understands the nuances of communication across the entire spectrum of media, and how consumers engage with brands in the omnichannel world they now live in.
So, Cult is particularly good at helping brands architect a Customer Journey that drives a consumer from awareness past decision and onward to loyalty and advocacy for a brand. Turning average consumers into fanatically loyal customers is a huge competitive advantage for brands. This is a secret that cult brands like Apple have known for years.
But our strategies are bold. And I'm not apologizing for that, but I know being bold isn't for everyone. It scares most marketers, frankly.
Cult is particularly good at helping brands architect a Customer Journey that drives a consumer from awareness past decision and onward to loyalty and advocacy for a brand.
Q: Has Cult had any major (or minor) triumphs since you opened the doors?
Yes, we've had some pretty huge victories. In our short history we've been able to count brands like Michaels and Harley-Davidson as our clients. Harley is like the ultimate cult brand! It's so reassuring to have brands like that knock on our door so early in our existence.
We've also launched Cult Ventures, which is an initiative we've started so we can put our money where our mouth is. We work with an investor group to help commercially viable companies raise more money for growth, and then help them with all their marketing communications. It's brand-building from the ground up. One of our ventures has become the fastest growing social network for amateur hockey players, which is pretty cool.
Q: Why the name "Cult"? What does the name represent to you?
It's funny because when we first hit on the name, we were like, "We could never call ourselves Cult!" But then we thought about why we felt that way and realized it's exactly for those reasons that we should. I love the reaction we get when people hear the name. It's a conversation starter, which is exactly what we want!
I like that the name Cult is so provocative. I hate boring! It makes people stop and think. It's also a name that helps convey our vision: We help build cult brands. I want to be known for something and stand for it firmly and I think the name helps plant our stake in the ground.  I think Cult is a bold name and gives us some swagger that will garner attention. And that's what we need as we're getting off the ground, right?
Q: What kinds of organizations or brands would benefit most from working with Cult, and what advantages would Cult give them?
Any organization that sells a product or service – or even a non-profit selling a cause – that can benefit from boosting the affinity or allegiance customers have for their brand to gain a competitive advantage or achieve their goals.
If you're a brand that's willing to try bold and innovative things in order to win customers who will turn their nose up at competitors, spread unprompted word of mouth, shop you more often and exclusively, forgive your mess ups, or want to tattoo your logo on their body, you should give us a call.
Q: Can you let readers in on anything that Cult is working on or any big upcoming announcements? Is there anything people can look forward to from Cult?
Yes. Watch for something very cool from Harley-Davidson in western Canada this spring. Can't say more than that.