Anatomy of a Cult Brand: Be Inspiring

This is part three of a six part series that explores what it truly means to be a cult brand.
This is part three of a six part series that explores what it truly means to be a cult brand. Read part two here. "Anatomy of a Cult Brand" summarizes our study of the world's most coveted and successful brands. This series details the six attributes we have uncovered that have enabled certain brands to win the irrational loyalty and devotion of their customers, and in doing so, establish a formidable competitive advantage.
Cult brands inspire from the inside out.
Cult followings do not spontaneously spring forth from an external group of consumers. Companies must first look inward. They must commit time, funds and other resources toward fostering a fantastic employee culture before looking outwards to engage the larger masses.
Inspiring from the inside out is a crucial, yet all-too-often overlooked, factor of running a successful enterprise. According to Quantum Workplace's 2013 Employee Engagement Trends Report, organizations with higher levels of employee engagement are more likely to report increases in profit. That same employee engagement is a prerequisite for forming a cult brand.
To create exceptional brand experiences for customers, marketing leaders must first implement motivating and logical internal processes.
A thriving company culture isn't achieved as a result of a two-dimensional mission statement. Rather, culture is everything a company does to inspire employees through its core values – there are no short cuts. Developing an inspirational work environment, the fertile soil for growing cult brands, requires old-fashioned time, dedication and effort. Most importantly, it requires leaders who set the example by walking the walk and talking the talk every day in every way.
Cult Brands Don't Thrive on Ads Alone
Chris Kneeland, CEO of Cult Collective, is frustrated by how the majority of modern marketers divvy up the budget in ways that ignore the company's internal culture.
"Brand stewards have millions of company dollars at their disposal," Kneeland says. "They have access to the best ad agencies and slickest creative, and as a result, tend to put the lion's share of budget into the end user. Too many CMOs defer issues relating to finding, retaining and inspiring employees to Operations or HR. That's a shame, seeing as internal marketing can be more fun, less expensive and more impactful to the bottom line than most of the mass advertising CMOs often spend excessive amounts of time and money on."
Internal marketing can be more fun, less expensive and more impactful to the bottom line than most mass advertising.
What does an engaged employee look like and why is it important? A recent study from the National Business Research Institute (NBRI) reports that engaged employees exhibit six key traits. Engaged employees:
Believe in their organization.
Have the desire to work to make things better.
Understand the business context and the bigger picture.
Are respectful and helpful to colleagues.
Are willing to go the extra mile.
Stay up to date with developments within their industry.
The same study also found that engaged employees produce twice as much in the same time as unengaged employees, and 40% to 80% of customer satisfaction is affected by employee attitudes.
Have we convinced you yet of the crucial role internal culture plays in the success of your company?
Influential Advocates 
Marketing blogger Ashley Zeckman points out that even if a company actually possesses those coveted engaged employees, "Many are missing a key opportunity to turn engaged employees into advocates for their brand." Tips for harnessing the power of engaged employees include: developing a formalized advocacy program, building advocacy into the job description, motivating through gamification and finding the right program to keep the momentum going."
A Look Inside
The following brands all understand the importance of fostering a strong and healthy internal culture, knowing that it is the prerequisite for external success. Regardless of industry or size, all brands need to first establish their company values, not based on what they think customers want to hear, but what they truly believe, and then ensure employees are on the same page and empowered to actually act and demonstrate these values.
WestJet: Building a Brand-Aligned Workforce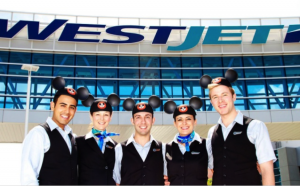 A recent survey found that 49% of Canadians chose WestJet as their preferred airline in Canada. Air Canada was preferred by 35%. Although Air Canada flies to more destinations, utilizes an adequate airline rewards program and offers competitive ticket prices, why are consumers more satisfied with WestJet overall?
WestJet is non-unionized, and all WestJet employees are considered owners who receive an annual profit share. Because of the airline's culture of ownership, evident in its motto "We succeed because I care," employees genuinely want to contribute to the company's success.
Every year, WestJet receives 60,000 to 80,000 applications for 1,300 open jobs. This gives WestJet the ability to select only the top talent whose personal characteristics align with the company's core values. In turn, a highly selective and robust recruitment process, resulting in highly engaged and motivated employees, profoundly influences the customer experience, enhancing the WestJet brand and ultimately its bottom line.
It's imperative you select the top talent, whose personal characteristics align with the company's core values.
WestJet has received a number of awards for its company culture. It is the only airline in Canada's Top 100 best workplaces, and for the third year in a row (2012, 2013 & 2014), WestJet Airlines has been named the winner of the Randstad Award as Canada's most attractive employer.
Panera: Brand Values Baked In
Panera Bread is a force to be reckoned with in the bakery and café category in the U.S., owning 60% of the market share and achieving sales of over $3 billion dollars. The key to their massive success – their outstanding culture.
Panera has built its culture and interactions with customers around transparency and goodwill. Their blog tells stories of the communities they work with, the customers the care for and of course the employees they empower. Employees are made well aware of the brands values and are happy to go the extra mile, truly believing in what the company does and stands for.
Employees have to truly believe in what the brand stands for and feel apart of something larger.
In his book, The Human Brand, Chris Malone describes a heartwarming story of a New Hampshire Panera store manager who went out of her way to provide a terminally ill customer a with a bowl of her favourite clam chowder, even though there was none available on that day. True to the brand's values, she pulled together a special pot of chowder and threw in a box of cookies no less. Naturally, the customer praised Panera on Facebook and the story took off like wildfire, with over 730,000 likes and 24,000 comments. When questioned by the media, the manager simply stated, "I was just doing what was right."
Panera's firm belief in goodwill, demonstrated in countless ways, resonates with employees and customers alike. The brand exudes compassion and the results of their inspiring and healthy internal culture cannot be ignored.
Whole Foods Market: Empowering Employees to Deliver Exceptional Experiences 
Whole Foods Market operates on a purpose-driven business model, focusing on "whole foods, whole people, whole planet." Front-line staff are given "maximum freedom with minimum governance" and are empowered to tailor merchandise and services to the needs of the local communities each store serves. As the company grows larger, in effect, through decentralization, they actually grow smaller, with each store taking on a life of its own in order to best serve its customers. It is these customers that Whole Foods staunchly believes fuel its success, the grocer sees them as brand ambassadors and therefore seeks to create an exceptional experience each and every time.
It's important to empower employees, giving them the ability to take meaningful actions.
In his keynote address at the 2012 Great Place to Work Institute's annual conference, Whole Foods co-founder and co-CEO, John Mackey, asserted that, "Companies with a 'conscious culture' and 'higher purpose' inspire employees to reach their greatest potential." In turn, Whole Foods' empowered employees have played a huge role in the company's success. "In fully aligning your organization's strategies, systems, and structures around a higher purpose, you will almost certainly realize business results—making more money than you thought possible."
Dr. John Noseworthy, president and CEO of the Mayo Clinic, was another keynoter at the Great Place to Work conference. Dr. Noseworthy spoke on "The Power of One" and how the culture at the Mayo Clinic helps employees recognize their individual role in achieving the organization's purpose to provide "an unparalleled experience as the most trusted partner in health care." In one story, Dr. Noseworthy described how a staff member, when asked what her job was by a visiting media crew, responded, "I save lives." This employee was not a doctor or researcher, but a custodian. Such clarity of purpose helps all 56,000 employees at the Mayo Clinic find meaning in their work and understand their true value to the organization.
From the Inside Out
Cult brands are built by organizations that inspire employees to believe in their purpose, their "why." The connection a brand wants to make with customers must begin with its employees. By building the brand from the inside out, marketing officers can create the greatest impact in the place that ultimately matters most: customer interactions with the brand.
Build from the inside out. Companies with inspirational cultures and cult followings:
Hire the best candidates whose attitudes best align with the brand personality.
Train their workforce well by showing them what they value and what they don't.
Keep their culture fresh in employees' minds through strong internal communications and company leadership setting the example.
Empower staff to self-police and reward brand-aligned behavior.
Without the support of your employees, the road to becoming a cult brand will be long and strenuous. Show them you care.