Anatomy of a Cult Brand: Be Pervasive

Part six of six part series that explores what it truly means to be a cult brand.
This the last instalment of a six part series that explores what it truly means to be a cult brand. Read part 5 here. "Anatomy of a Cult Brand" summarizes our study of word's most coveted and successful brands. This series details the six attributes we have uncovered that have enabled certain brands to win the irrational loyalty and devotion of their customers, and in doing so, establish a formidable competitive advantage.
Cult brands are everywhere.
You may be thinking, "How can a brand that's 'everywhere' be a cult brand?" Ubiquity is not about brand popularity, or the extent of a brand's media exposure to a mass audience. Besides, a brand can still be "popular" and maintain a staunchly loyal, cult following. Pervasiveness is really about a brand's ability to transcend the boundaries of its primary product or service category to permeate the lives of its customers, consumers or society in general.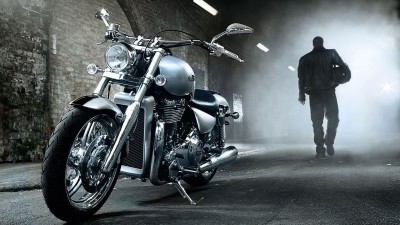 As Cult CEO, Chris Kneeland, explains, "A brand's pervasiveness is different than its fanatical following. Cult brands can dominate our culture. How is it that nearly everyone is familiar with the Harley-Davidson brand, but not everyone owns or rides a Harley-Davidson motorcycle?" Much of this phenomenon has to do with the spontaneous advocacy and positive word-of-mouth that cult brand fans spread as a result of their emotional connection to the brand. Harley owners live and breathe the brand through a multitude of participatory opportunities that the company has created – from apparel to bike rallies. "Cult brands only cater to the most fanatical followers and treat their best customers differently than the masses," adds Kneeland.
It's impossible to ignore what can't be avoided.
It's important to recognize that cult brands have learned to flex a new muscle. They've crafted the skills needed envelop consumers' lives, often in ways that still deliver tangible value. Pervasive brands have exploited new avenues, enabling them to become relevant to consumers beyond their initial or core offering, and sometimes beyond their core customer.
How?
It starts with developing a deep understanding of the customer journey for each target consumer group, then engineering a multitude of products, services or experiences that help to embed a brand into consumers' lives in meaningful ways.
Pervasive brands have exploited new avenues, enabling them to become relevant to consumers beyond their initial or core offering, and sometimes beyond their core customer.
Think about how Google – a brand that began life as a simple search engine – has expanded and grown. Beyond the 12 billion search queries Google users perform monthly, there are 425 million Gmail users (25% of the U.S. population uses it during work hours), 300 million monthly active Google+ users, 750 million people using Google Chrome as their web browser, and 1 billion users of the Google Android mobile device platform. Oh, and don't forget about Google's YouTube. Presumably, a good portion of these millions (billions) of users are comprised of the same consumers.
Or how Virgin – a brand that encompasses everything from airlines to radio stations to cell phones – has created a memorable, shareable brand experience for millions of people around the world with its yearly Virgin Festival (V Festival) concert series in the U.K., U.S., Canada and Australia. Or the fact that Red Bull – an energy drink – has become a prominent fixture in consumers' lives through its numerous sponsorshipshigh octane events like Crashed Ice, and viral stunts that make it the brand name on everyone's lips (even when its product isn't).
But pervasiveness is not simply about ubiquity. Rather, it is really about embedding a brand into consumers' lives in ways that help forge an emotional bond. Pervasive brands know that it's not just the "moments of truth" that help to do this (although important); it's what a brand does in those moments in between that matter just as much.
Pervasiveness is not simply about ubiquity. Rather, it is really about embedding a brand into consumers' lives in ways that help forge an emotional bond.
Case in Point: Vans
From its humble roots as a single shoe shop in Anaheim, California, Vans clothing and apparel is a brand that inherently understands the pervasiveness principle. Everyone from toddlers and teens to middle-aged moms now sport Vans' iconic slip-ons. Despite its pervasiveness, Vans still directs the majority of its efforts towards engaging its devoted core fan base of extreme sports enthusiasts and lovers of the So-Cal skate/surf culture.
Today, Vans is a prominent supporter of action sports, sponsoring dozens and dozens of skateboard, surf, snowboard, BMX and Motocross teams and athletes. So much so that Vans created the Vans Live app, enabling fans of these sports to watch live events or view thousands of archived events on their tablets or mobile devices. While Vans maintains a presence in places brand fans would expect – extreme sporting events, skateparks, social media platforms, cultural events – the brand also methodically weaves its message into the fabric of pop culture in other ways.
Pervasive brands methodically weave their messages into the fabric of pop culture in many ways.
In 2001, Vans funded and helped release Dogtown and Z-Boys, a documentary film about a pioneering group of misfits who popularized skateboarding in the seventies. The film received critical acclaim and was even honoured at the Sundance Film Festival with two awards. Most importantly, for the millions who saw it, the film served to legitimize – even mythologize – the skateboard counterculture with which Vans' core customers had strongly associated for years. Dogtown and Z-Boys grossed $1.2 million at the U.S. box office and sold over a million DVDs by 2004, according to director Stacy Peralta.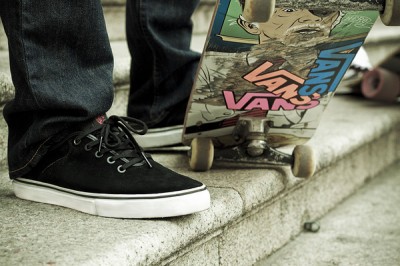 Vans can thank skateboarders for popularizing its rubber-soled sneakers, and while the brand still caters to core fans who love the shoes, Vans has completely transcended the sporting apparel category by investing in the creation of its very own 'owned media' channel: Off The Wall TV. Vans publishes a non-stop stream of content that spotlights emerging fringe musicians, artists and athletes – content that is very much aligned with the interests of Vans' core customers – through television, the Off The Wall TV website, its branded mobile app, Vimeo and YouTube channels. Vans also pushes content out through social media channels, including Twitter and Facebook, which have a combined following of over 16 million.
Recognizing alternative music as the common thread among all of its core customers, Vans created the Warped Tour festival in 1995. Akin to a religious gathering, today, the Vans Warped Tour is the largest travelling music festival in the U.S. The tour provides millions of music fans an annual destination where they can congregate, celebrate and revel in the music and culture that gave rise to the brand's fame.
Knowing how elemental music is to the lives of its fan base, Vans has also created a music scholarship program in conjunction with the famed Berklee College of Music. A Colorado Springs musician received the first scholarship, "Chosen based on her academic performance and 'Off The Wall' lifestyle," according to Vans.
In short, when Vans fans aren't wearing the brand, they can engage in a multitude of other ways, through Vans' owned media assets (apps, websites or social media) or by participating in real-world events the brand has created.
Case in Point: Marvel Entertainment
It's no wonder Marvel has become such a pervasive brand considering it refers to its product as a "Universe." In its marketing approach, Marvel has quite clearly placed consumers at the very centre of its universe, building around them an ever-expanding web of brand touch points. Marvel is a hard brand to ignore these days.
A pervasive brand places consumers at the very centre of its universe and builds an ever-expanding web of brand touch points around them.
Marvel has always focused its core business on selling consumers the experience of modern mythology; it's primary product. But where Marvel truly excels is in its ability to continually invent new ways for consumers to experience the brand, ways that don't just deliver the experience, but that help enrol consumers in the Marvel Universe.
Pervasive brands excel in their ability to continually invent new ways for consumers to experience them.
Marvel has published comic books since the nineteen thirties, and for decades, printed comics were the only medium through which consumers could experience Marvel's product. Today, Marvel fans can still experience their favourite characters and story lines through comic books and graphic novels in traditional printed and now digital forms, but Marvel has expanded far beyond its original core product.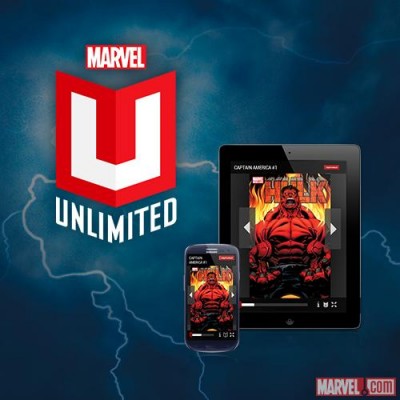 In 2007, Marvel launched Marvel Unlimited to cater to its core base of comic fans. The subscription service gives members unlimited access to over 15,000 issues of Marvel's titles online and through the Unlimited mobile app. Each month, Marvel adds over 60 new issues to Marvel Unlimited, and the mobile app is available on iOS and Android platforms.
But Marvel has evolved far beyond comic books, enabling consumers to experience its most popular characters and stories through video games, animated shows and features and live action films. Marvel's film production arm, Marvel Studios, is largely responsible for popularizing characters like Iron Man, Captain America and The Avengers through blockbuster films that draw millions to theatres.
In fact, Marvel's Guardians of the Galaxy was the top grossing movie of 2014 (so far), selling over 40 million tickets. Oh, 2014's second highest grossing film? Marvel's Captain America: The Winter Soldier. (X-Men: Days of Future Past was sixth on the list and Amazing Spider-Man 2 came in eighth, in case any fans are wondering.)
Marvel has not only transcended its original medium, it has transcended age groups. While older fans can enjoy the comics and films, kids can equally enjoy Marvel's heroes through toys, clothing, animated shows and even comic titles geared for tikes, like the popular Marvel Super Hero Squad. Or, older kids and adults alike can immerse themselves in Marvel-inspired rides at Universal Studios theme parks and soon, Disneyland. Earlier this year, 'Forbes' reported plans for a standalone Marvel theme park.
Think Marvel's not a cult brand? Does your brand have fans that regularly don costumes to show the world their devotion to your products? Probably not.
Clearly, Marvel is a brand whose sum is greater than the whole of its parts.
Key Lessons on Pervasiveness
Pervasive brands…
Create destinations or events that deliver memorable, shareable brand experiences.
Weave themselves into the fabric of consumers' lives.
Are everywhere their audience wants to be: At home, online, or on-the-go.
Cult brands place their customers at the center and build a world of products, services and experiences around them.