Forge Brand Affinity by Finding Your Brand Truth

How brands win customer loyalty through a shared, noble cause.
In the lobby of our Calgary office hangs an original illustration. We all pass by it each day. It's become part of our visual identity system at Cult, appearing on our letterhead, website and various other applications. But what does it mean? Why do we use that picture to represent an Engagement Agency?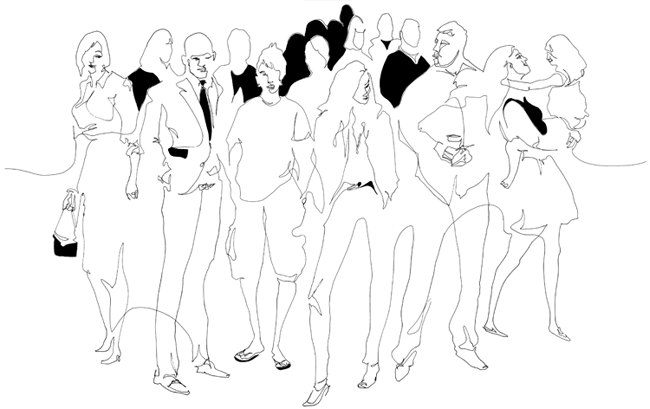 At first glance, people usually only notice a crowd of disparate people: males and females, old and young, stylish and plain. This crowd represents a following, which is often our goal for brands we work with. Our engagement strategies strive to motivate and inspire large groups of people to act, shop, visit, refer, click, or buy our client's products and services.
But, upon closer inspection, you'll notice something different about this piece of art: The artist never removed her pen from the page while drawing it.
Like an Etch-A-Sketch drawing, the entire illustration was made with one continuous line. That line represents a brand truth (sometimes referred to as a Noble Brand Ideal).
Many times, brand fans don't have much in common except for their love of a particular brand. They share a passion for a product or service or company that goes beyond their cohorts or psychographic preferences. Great brands like Mini, or Converse, or Levi's, or Budweiser appeal to all types of different people.
Rather than relying on blunt customer segmentation and mass media to try to reach consumers based on demographics, we aim to create cult-like followings through our Enlightenment Process. This process helps us uncover and exploit one simple brand truth that is not only relevant to the marketplace, but resonates with certain individual consumers to their core.
We help brands discover the one thing customers want most. Then we help determine how to deliver it better than anyone else, and creatively (and consistently) communicate that one thing to the right people at the right time (and place), and through the most effective medium. That's how we convert average customers into cult-like followers.